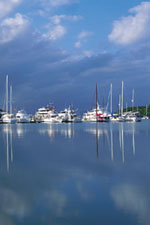 Port Douglas, Australia
A favourite hotspot for adventurers, Port Douglas is located near the Great Barrier Reef, making Port Douglas a great place to be. Located in the rich historic area of North Queensland Port Douglas is in the center of the tropical splendour of the area.
The village atmosphere of Port Douglas is sprinkled with a wide range of accommodation properties. All have been architecturally designed to blend in with the surrounding landscape. Particularly popular are the holiday apartments, in fact most hotels in Port Douglas now include a mix of apartments in their complexes. Whether your choice is the 5 star luxury Sheraton Mirage Resort or an unrated backpackers hostel, at Port Douglas you'll be sure to find what your looking for. The season, May through to September is the busiest time of the year and you must be sure to make reservations in advance.
Accommodation Choices in Port Douglas
Shalimar Apartments
Lazy Lizard Motor Inn
Sheraton Mirage Resort
© 2000 PortDouglasAccommodation.com